Grant County Industrial Alliance (GCIA), a non-profit organization of regional industrial businesses, recently partnered and completed a sponsorship series of three large mobile distribution drives between December and early February. Working with 2nd Harvest Foods, area municipalities, businesses, non-profits, as well as area retirees, a total of 40,000 pounds of food was distributed among Royal City, Warden, and Mattawa communities over the winter. For all three events, a combined total of approximately 860 families, or over 3000 individuals, received free pre-packed emergency groceries.
"Feeding people well" since 2006, and with refrigerated trucks transporting 8,000-10,000 pounds of food for each location, 2nd Harvest Mobile Market brings healthy groceries and nutrition education directly to high-need areas. Not just canned and dried goods, these mobile markets provide fresh fruit, vegetables, milk, bread, and frozen foods. Through its partnership with GCIA, 2nd Harvest was able to provide nutritious food at no cost, no appointment, and no documentation to vulnerable children, seniors and families experiencing food insecurity.
The most recent event held in Royal City on February 4th saw the largest distribution of food with approximately 20,000 pounds between 250 families at the Cascade Organic Flour facility. Ryan Beebout, Director of Operations for Sabey Data Center in Quincy, and GCIA Secretary said, "Thank you Cascade Organic Flour for donating flour and providing the venue. This was our third and final food drive for the season, and we definitely finished strong."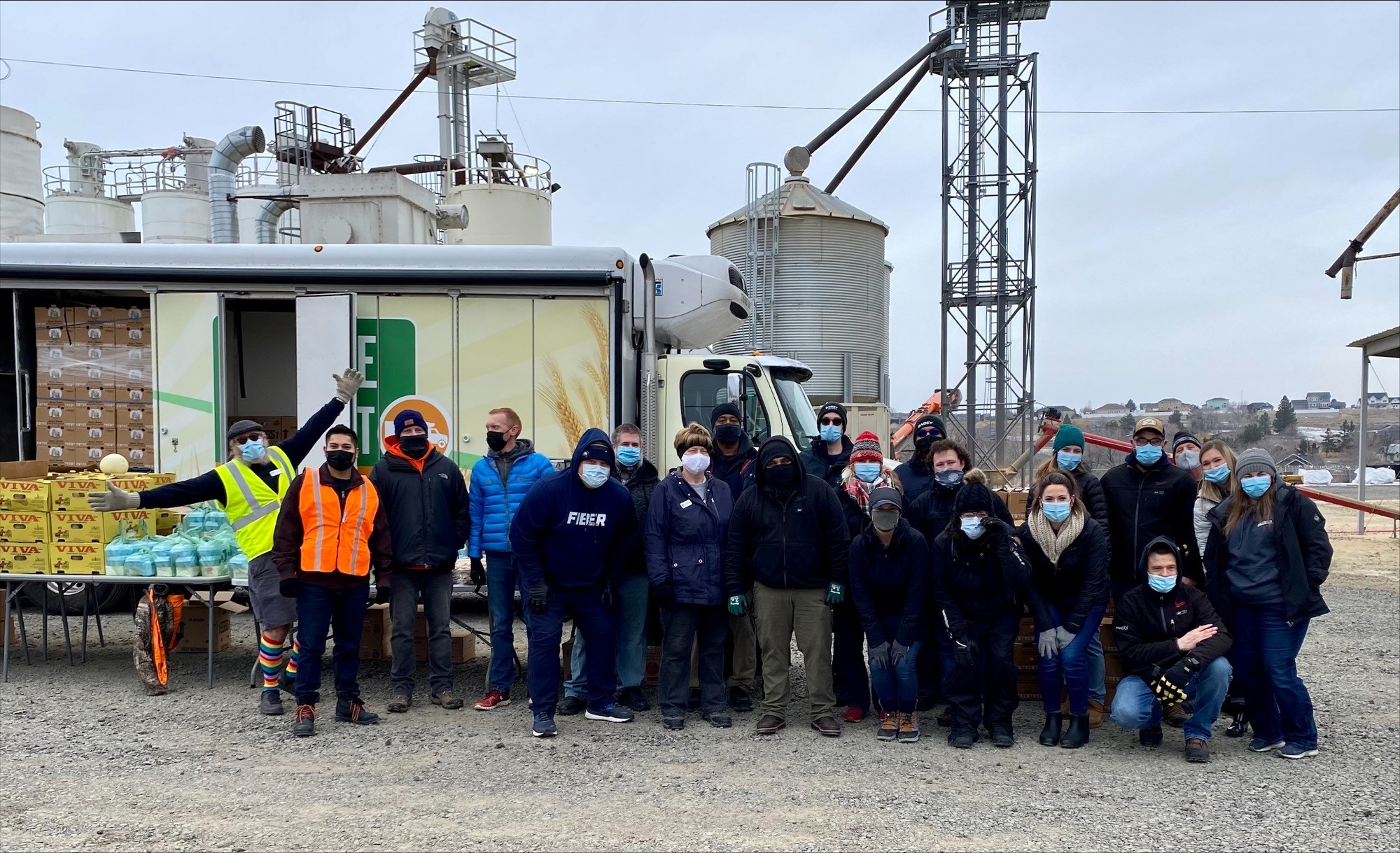 The two prior events were each equally successful. On January 14th in Warden, and in partnership with the Port of Warden and ConAgra Foods Foundation, the drive-through mobile market was hosted at the Warden Community & Senior Center of Warden. There, the largest number of families, 311 to be precise, were provided pre-packaged groceries. At the Port of Mattawa on December 3rd, co-hosted and by Grant PUD, the largest number of individuals were helped that day with 1271 residents receiving 11,000 pounds of much-needed food, all while being serenaded by volunteers also from GCIA and Grant Economic Development Council.
According to Beebout, each consecutive mobile market also improved in its distribution efficiency due in great part to generous staffing. With no less than 19 volunteers per event and some repeat attendees on their day off, he said. "The GCIA and Grant PUD alone brought 23 volunteers to Royal City on February 4th. It was a great experience hosting these events and given the amount of people that showed up to each of them, it was incredibly worthwhile."
Chuck Sutton, REC Silicon VP of FBR Sales in Moses Lake, and GCIA President concluded, "GCIA companies are committed community partners whose employees and family members live, work and play throughout Grant County, and the Mobile Market partnership is a great example of this. Thank you, everyone, for your contributions and participation. We are already looking forward to bringing 2nd Harvest Mobile Market back."
Learn more about the 2nd Harvest Mobile Market's schedule as well as other ways 2nd Harvest is making a difference in the Inland Northwest at 2-harvest.org.
About Grant County Industrial Alliance
We are a community of local businesses working to ensure the residents and citizens of Grant County understand the value of all our local industries, from big to small and everywhere in between. The large industrial companies of Grant County share the values and quality of life that has become fundamental to all Grant County.
Grant County Industrial Alliance members include AstaReal, Norco, Serverfarm, Vantage Data Centers, Sabey Data Centers, REC Silicon, Yahoo, NTT Data, Nouryon, Moses Lake Industries, Microsoft, Joyson Safey Systems, H5 Data Centers, Columbia Basin Railroad, and Chemicon.
About 2nd Harvest:
Fighting hunger, feeding hope: Second Harvest brings community resources together to feed people in need through empowerment, education, and partnerships.
We believe that everyone has the right to health, and nutritious food is a key ingredient in the recipe for a healthy life. We envision a world in which every person – regardless of age, race, ability, income or status – has access to the food they need to live a life full of the activities and people they love. That's why Second Harvest works hard to get food onto the tables of families, kids and seniors facing hunger in our community.