Clark McAlavy takes pride in being Moses Lake Nouryon's most seasoned employee. Over 30 years ago, Clark and six other employees, who still work there, were hired the same day, but Clark says he was the first to say "yes" to a job offer. Decades later, Clark says there's something to be said about a group of people who are still devoted to their jobs after all these years.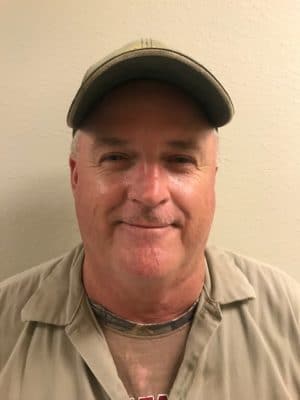 Nouryon is a global leader in the manufacturing of chemicals that are used to create everyday household products; produces such as: paper, plastics, building materials, food, pharmaceuticals, and personal care items.
With most of his working years behind him and his career waning, Clark took some time to reflect on his role as a near-lifelong employee an industrial company in Grant County:
Clark is one of four Chief Technicians at Nouryon in Moses Lake, working rotating 12 hour shifts. Chief technicians ensure the safe operation of the process and guarantee maximum production. But, prior to his long-term tenure with Nouryon, Clark was born and raised on a farm in Moses Lake. Nearly 40 years ago, Clark took a 'leap of faith' leaving the comforts of what he knew as a farmer and accepted a job at a local titanium plant. Clark's stint working for an industrial didn't last long after the plant closed, but it wouldn't be his last. After taking on a role as a corrections officer, Clark says he was approached by Dave Buset, a production manager at a new Moses Lake industrial plant called "Kemnord" at that time. Clark says Kemnord offered him the low-rung position of shift relief operator. After several changes in ownership, the Kemnord facility would eventually become home to Nouryon.
"I really do love doing this job, the mind numbing late night hours of staying awake. I would live for the challenge of correcting a process event, (plant tripping kind of thing) stack fires… Overcoming problems and fixing them. And I really enjoyed the people I have worked with," Clark told the Grant County Industrial Alliance. "My employer is a good company to work for. They took care of their employees. This company has made my living and well for the last 30 years. It's rare today to be in manufacturing and work at one place so long. Doing something you enjoy."
With a wife and two children, Clark says the life he's lived Grant County allowed him to be a good family man.
"My wife and I have raised our kids here, sent them to college bought our homes here, lived our lives here and we are truly blessed." While on the phone with GCIA, Clark says he's very lucky in raising two "great" children who are both successful. After experiencing success, himself, Clark says he wanted to paint the same future for his kids. "I told them you have two options after high school, 'you either go to college or you go into the military.'" And to college they went, both graduating from Washington State University. Clark says his wage at Nouryon allowed him to pay for his kids' schooling, compounding the chances for more promising futures after graduating from WSU debt-free.
Clark's memory of his days on a farm hasn't escaped him and knows agriculture remains an integral part of Grant County's economy, but so too is the industrial sector.
"This plant (Nouryon) has paid good wages, bought local, hired local people, paid their bills, investing back into the community. They don't get enough credit for what they add to the community. Grant county has an agriculture based economy that needs jobs for people to work, not everyone can be a farmer. Nouroyon brings jobs that sustain our community. Everything changes and we need to keep up with them. And I hope that we will be a part of that."