In a sense, Analyst Alfredo Rodriguez is still that little boy who fell in love with computers after being introduced to one in 3rd grade; that's why he does what he does for NTT DATA in Quincy. Alfredo is a Data Center Operations Analyst with a focus on data center design and management. Alfredo oversees customer data transfer, data storage hardware, and deployment of equipment. Alfredo says he was one of the first Hispanic Quincy residents to work for local data centers, a hurdle that wasn't easy to clear at that time.
"I grew up in Quincy, Washington. As a Hispanic growing up in this area, the career ladder is slim. If you're from this area you know that your typical career path would be in farming, truck driving, food processing, local grocery store or starting your own local businesses. I was fortunate enough to have parents who worked extremely hard and were self-made entrepreneurs. They took their hard-earned money and helped bring the first taco truck to Quincy: other business endeavors of theirs included: a kids toy store, a meat market, a boutique, a jewelry store, and the first Mexican clothing store; not to mention that they helped open one of the first three Mexican restaurants in Quincy. The moment my father knew I could speak English well; realizing that I was a pretty smart kid and was good at math, he helped me transition from being an introvert to an extrovert.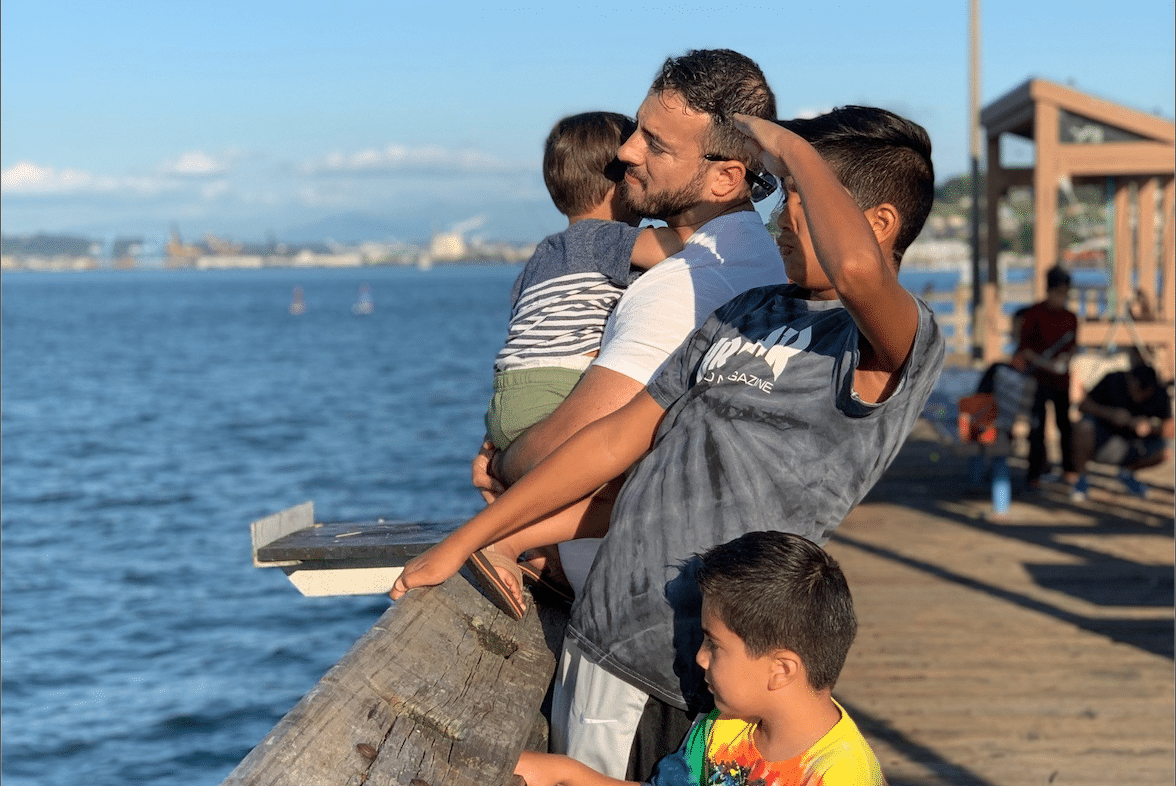 Alfredo says his dad taught him valuable customer service skills at their family-owned businesses.
"I helped my father take orders, help with customers, helped sell merchandise in Ephrata's old flea market next to where Best Western hotel is located. I also sold Mexican ice cream out of a cart in Quincy and Chelan. I grew up in the family business, but I was no stranger to hard work. My father ensured I knew what life would be like if I had no education. So, I worked in the apple orchards, pruning, picking and fertilizing. I mowed lawns in the summer for extra money, had a paper route, eventually my parents decided to leave Quincy and try something new."
Alfredo and his family moved to Kansas City, Missouri his junior year of high school, a decision that his parents may have regretted after deciding to move back to Quincy after a few years. For Alfredo, it was an experience that provided the career path he needed for his pursuit of happiness. Alfredo's passageway to prosperity began at a T-Mobile store in Kansas City.
"During my time at T-Mobile I met a guy installing and configuring our new point of sales (POS) systems at the Blueridge location. I worked about 15 minutes from the college I attended there. The T-Mobile co-worker I was spending time with revealed he worked in Bellevue, Washington and was a Senior Desktop Support tech for T-Mobile; he turned me on to contracting in IT on a platform called OnForce, now called WorkMarket. I did several contracts on that platform that helped me get the necessary field experience and knowledge needed to succeed in IT. Contracts involved, running overhead and through wall network drops, terminating network jacks, installing routers, switches and access points for companies such as: McDonalds, Pizza Hut, Starbucks, Office Depot, etc. After graduating college, I ended up moving to California to help open a new T-Mobile store in Glendale. California was booming so I was always looking to land another IT role. As I tried the career ladder with T-Mobile and landed a role in IT at the Bellevue headquarters with the help of the Senior Tech who deployed the POS systems earlier in my sales career. After realizing I could not afford to live in Bellevue and was tired of the big city life, I spoke to my parents who had moved back to Quincy in 2008. They mentioned Quincy had a Microsoft building, but were unaware of what it was. I made some calls and ended up interviewing for Microsoft shortly after, landing a 3-month contract with Hewlett Packard working in the Microsoft Columbia Data Center. That started my career in the Data Center world. I was offered a full-time role with Microsoft vendor partner, but I turned it down landing another contract with Intuit the TurboTax company. I spent 10 months at Intuit and was offered a full-time position, but turned their offer down along with another by Axeon Technologies to later end up at Dell which is now NTT DATA. I have now been at NTTD for 8 years."
In hindsight, Alfredo says moving back to Quincy was the right move; his return to Grant County has opened doors to other opportunities that allow him to help others realize their potential in the Information Technology sector. Alfredo teaches part-time at Big Bend Community College as an IT instructor. In addition, Alfredo educates Quincy High School students about local career opportunities. But, Alfredo's involvement in his community doesn't end there.
"As I have grown into my professional and personal roles at NTTD, Big Bend Community College, as a father, a son, a sibling and life partner, I have made it a point to get involved in the community more. I have now attended several city meetings in both Quincy and Moses Lake where I live. Became a Watch Dog for my 6-year-old son and have provided community service hours through my employer. I also led a free coat drive that gave hundreds of books and coats to families in Quincy through a partnership with my younger brother at High Tech High in Quincy. I helped setup and lead a free dog showcase event in Moses Lake which provided free food, helped promote safe and proper dog caring practices as well as raise awareness on animal cruelty and how to prevent it. I Have an active podcast that touches on different aspects based on society and culture. But, most importantly, ensuring that I leave my footprint by being a contributing member of society and the community I work and live in so that one day my kids can do the same."