Vantage Data Center's Mark Johnson is a man who others lean on. Johnson is the director of site operations for two data centers in Quincy, Washington, and provides procedural and preventative maintenance support to other data centers across the world. Originally from Texas, Mark might be a Texan at heart, but he's proud to call Grant County home. Mark's penchant for tech developed from his fascination with electricity.
"As an electrician by trade, I was totally fascinated by the way electricity can be switched from one source to the other, and the equipment being fed will never turn off. Once I started working in data centers, it is like I found my home. Power can never go off. The cooling system can never go down, and millions of dollars are on the line if it does. This environment created an important, critical position that I feel very passionate about. I have over 30 years working in critical environments and it has been a wonderful career so far.
Mark's vested interest in the inner-workings of electricity was a launch pad into a related field shortly after high school.
"Right out of high school I became an apprentice electrician. I worked on residential houses and then worked as an industrial electrician. I then went into commercial wiring where I found my niche. I ended up becoming a journeyman electrician and then went on to obtain my California Contractors electrical license. I worked in the disk drive industry for approximately 15 years. This was my first experience with redundancy and what happens when systems go down and the money that is lost."
After those 15 years, Mark saw something new on the horizon as his peers began to transition into the data center industry.
"When some of my peers went into the data center industry I was soon to follow. It was a new experience and environment I never expected. I have worked providing critical infrastructure for companies such as IBM, PayPal, EBay, Yahoo, EA Sports, Verisign, and many others."
Mark arrived in Grant County during his time with the Yahoo as a data center manager, but feels he's truly found his place in the industry as 'director' at Vantage Data Centers in Quincy. Mark appeared exalted as he spoke highly of his current employer.
"Vantage has core values that it really uses. I think this sets us apart from other companies I have worked with. Operational excellence, customer service, security, safety, cost effectiveness, collaboration, continuous improvement, and my favorite which is transparency. I enjoy speaking openly and honestly to a customer even when I am admitting a flaw in operations. Other companies I have worked for would keep certain things quiet and not admit anything unless asked. I found Vantage is different. Bad news does not get better with age. It is better to communicate it quickly so it can be dealt with. Total transparency is great. The company has really grown and continues to grow. I like being part of the growth and working with other sites to develop standards for operations. There are no bad teams, only bad leaders. Vantage has a lot of good leaders."
As the director of site operations, Mark says he takes pride in mentoring and teaching others using empirical knowledge from experience. Mark emphasized his role as an advocate an ensuring that proper resources are granted for the data center team to perform vital functions and duties.
Education and workforce development is a focal point not only for Mark, but his employer as well. Mark and other Vantage employees have been involved with technical advisory committees at several area colleges. He and others with Vantage consult with colleges in developing appropriate programs for students wanting to get into the data center industry. Mark also spent time teaching mission critical operations at Big Bend Community College; a course designed to help students understand how to work in critical environments.
Apart from collegiate-related endeavors, Mark and his colleagues have partaken in business expo events, fishing derbies, and golf tournaments.
Mark may hail from a land far, far away, but the father and grandfather is glad to have established his roots in Grant County.
"The people by far are number one. Working with the people at the Allied Arts group putting on the wonderful plays and the dedication that goes into it. Hanging out at the Hot Rod Garage with the folks of Grant County Fiber Active who are trying to get fiber to everyone in Grant County. I love working with the chamber of commerce on different projects throughout the year."
During his conversation with the Grant County Industrial Alliance, Mark graciously revealed his other 'love' in life…art. Mark says he spends much of his spare time making stage props for local plays and events.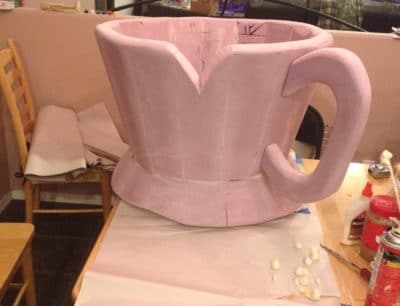 "One of the greatest feelings I had is when I saw an article in the paper about the Beauty and the Beast play I had worked on. The article highlighted the stage props I had done and referred to me as artist Mark Johnson."
Mark says he plans to retire with Vantage Data Centers in Quincy within the next few years and will likely devote a lot of his time to his passion for stage prop art.